Munich special
Your guests should leave Munich with unforgettable and

fascinating memories - no matter what the purpose of

their visit was. We offer tailor-made programmes

for your interests and needs.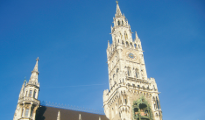 Here is a quick overview of what can be done:

Cooking lessons with Mr. Schuhbeck.
Literary excursion through the English Garden & Schwabing
Rafting tour in the Isar
Bike tour in and around Munich
Walking treasure hunt
Dragon boat races
Sightseeing flights
Olympic tour (Tower, stadium)
Tram parties
Beach parties and activities
BMW training for drivers
Horse carriage tours in and around Munich
Backstage tours at the Oktoberfest
VIP tour in the Bavaria film studios
Knights dinner in an authentic castle
Guided city walks with different themes
Our proposals adapt to your needs and time frames.
Every single group has different expectations, prerequisites and
requirements and so we develop each concept individually.
And besides, it is much more fun to develop and create new
constellations, discover new possibilities and to work out the best
package for your individual guests.
Please take advantage of our profound and up-to-date knowledge and
contacts for special locations in and around Munich.

Your partner, when it is about all or nothing.